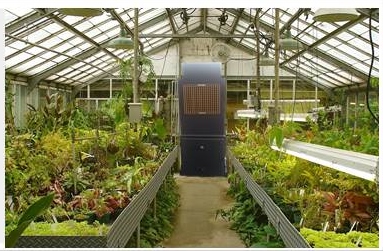 Hot air generators operating with pellet/wood . Possibility of simultaneous operation .
It can also operate in pits, olive pits and biofuel granular.
The hot air generators BIO-AIR have been specifically designed for greenhouse heating, cooling farms and protected crops, which provide the heat necessary to maximize productivity with any weather conditions.
Born from a long and consolidated experience in the field, are constructed according to the design criteria for the most advanced fully satisfy the needs of both savings and efficiency.
Operations require minimal installation thus adapting to every need with ease of use and deployment.
BIO-AIR generators are based on the direct heat exchange. Thanks to this, they do not require the use of intermediate fluids such as water, nor pipes or means radians fixed . In this way it happens that:
The initial investment is lower than that required by traditional systems.
This eliminates the risk of damage to the system caused by frost .
FUNCTION AND SIMPLICITY
The large volume of hot air product can be spread both free delivery which channeled .
Fully automatic, the generators BIO-AIR are so simple in use as maintenance : a few easy steps and general cleaning of the components.
The operation is " to fall" and therefore do not require burner. The electronic control unit manages autonomously up to 4 different fuels .

Large container

pellets

included
Choice of model, based on the surface to be heated:
BIO-AIR 60: INDICATIVE HEATING SURFACE: m² 200/250 - m³ 1.000
BIO-AIR 90: INDICATIVE HEATING SURFACE: m² 300/350 - m³ 1,500
BIO-AIR 120: INDICATIVE HEATING SURFACE: m² 500/600 - m³ 3.000
Maintenance:
Ordinary maintenance consists of removing the ashes deposited by opening the door. Once or twice a year, clean the pipes as well.